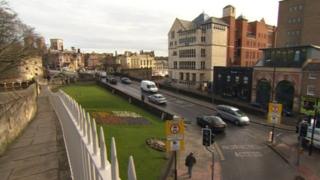 Drivers fined for channel York's Lendal Bridge while trade restrictions were in place have only days to request for their income back, officials have said.
About 47,000 fines totalling £1.3m were released during a hearing to shorten trade during a day.
The hearing took place between Aug 2013 and Apr 2014.
Refunds can be performed by job City of York Council or by visiting a website.
Refunds were offering to drivers after a trade decider pronounced a legislature had "no power" to emanate fines since signage and CCTV were inadequate.
Last year, a legislature spent about £150,000 essay to 27,000 drivers who had not claimed a refund. The deadline has been extended twice.
The management pronounced it would tell a sum cost of a Lendal Bridge "settlement" after 31 Mar when a focus routine ends.
It disputes a commentary of a Traffic Penalty Tribunal "regarding a official ability to umpire trade in this way" and pronounced a hearing was directed during shortening overload in a city centre, not creation money.